Hello Lovelies!

When it comes to cleansing our hair, I know that everyone uses different products, cleansing schedules, techniques, and so forth, but there are certain things every lady should do, or in some instances not do, when it comes to washing your hair. Cleansing the hair is perhaps the number one time when hair growth setbacks occur. If you want to make sure your hair washing sessions go smoothly and do not interfere with your long hair goals, follow my seven must do tips to cleansing your hair.
1. Detangle Your Hair Prior to Cleansing
No matter your hair type, shampooing your hair without detangling first can spell disaster. Even minor tangles can turn into matting and knots when you saturate your hair with water and add shampoo to the mix. The more controlled your hair is prior to cleansing, the fewer problems you'll have when you style your hair after you cleanse it.
Bonus Tip: Wash Your Hair in Sections
If you have curly or coily, highly textured hair, washing your hair in sections, such as braids or twists, is a great way to cut down on tangles, and prevent knots and matting during your cleansing sessions.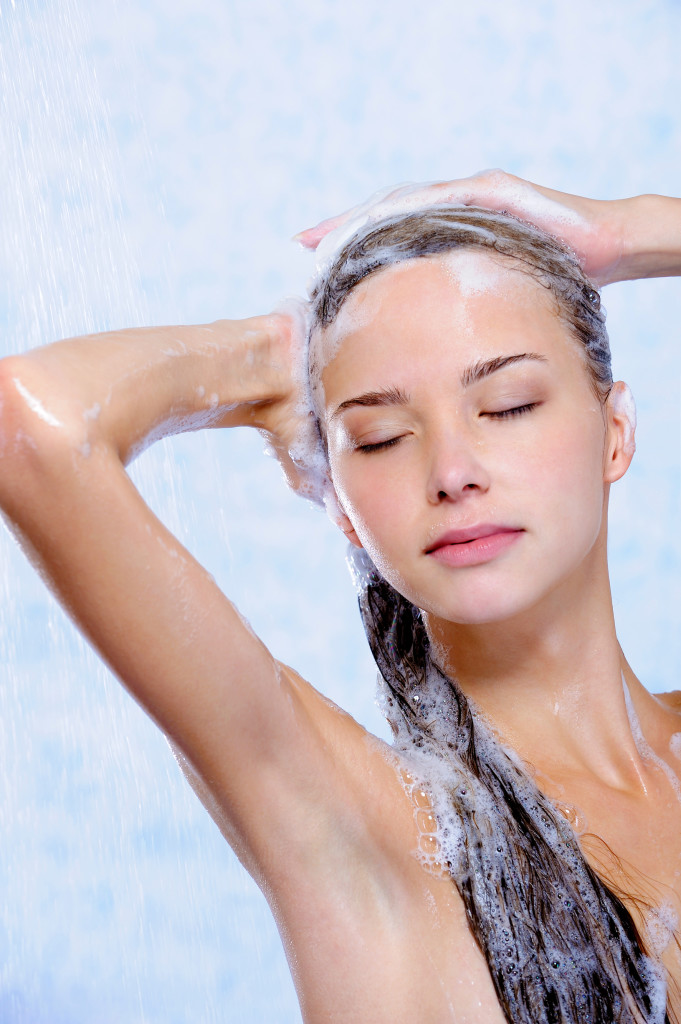 2. Massage Shampoo/Cleanser Only Into Your Scalp
Applying shampoo the entire length of your hair is unnecessary. Most of the buildup and excess oils that need to be shampooed rest on the scalp. It's your scalp that needs the majority of the cleansing action during washing sessions. So only apply shampoo to your scalp and focus most of your attention there.
Additionally, applying shampoo to the length of your hair dries out the portion of your hair that needs moisture the most, the ends. And don't worry, this technique will get all of your hair clean. Most shampoos are strong enough to cleanse the length of your hair as the suds slides down your strands when you rinse your scalp. It's also okay to gently squeeze and massage the suds down the length of your hair as you rinse the shampoo from your scalp.
Never use your nails to shampoo your scalp. Avoid massaging shampoo into your scalp with your nails. You could scratch your delicate scalp and cause scabs and sores to form. Instead, massage shampoo into your scalp with the pads of your fingertips. This makes for a much more gentler wash session that is easier on the scalp.
Bonus Tip:
To really protect your ends as you shampoo your scalp, apply a little conditioner on the last 2 to 3 inches of your hair. This way your ends are getting the extra touch of moisture they need while you cleanse your scalp.
3. Never Pile Your Hair On Top Of Your Head
Piling shampoo-filled hair on top of your head will create the worst kind of tangles. At least when your hair tangles while it's hanging down, you can pull the tangles out in a downward motion, but when your hair tangles in one big pile, you have no idea which way pull to remove the tangles, and each pull can create even more tangles. I've had the unfortunate experience of having to cut a friends hair after she washed it this way, so moral of the story, just don't pile your hair on top of your head while you're shampooing.
4. Shampooing Once is Sufficient, Twice Only If Your Hair Needs It
Unless you've been rolling around in mud, you only need to shampoo your hair once during most wash sessions. Now if you have tons of build-up, it's okay to shampoo twice, but shampooing more than that will completely strip your hair of all oils. If you have an oily scalp, shampooing more times could actually make your oily scalp worse.
5. Always Follow Up Shampoo/Cleansing Sessions with a Conditioner
Whenever you shampoo your hair, you should, always, I mean always, follow-up with conditioner. It doesn't have to be a deep conditioner, but it should be a conditioner with good ingredients that puts moisture back into your hair. If nothing else, following up with conditioner after you shampoo will detangle your hair. Only apply conditioner to the ends of your hair, never the scalp, because that will just create unnecessary buildup and clog your scalp's pores. Start about an inch or two away from the scalp, and apply conditioner down the length of your hair.
6. Gently Detangle Your Hair While It's Saturated With Conditioner
Conditioner saturated hair is the opportunity to gently finger detangle your hair, especially if your hair is curly or coily and highly textured. The slippery feeling conditioner gives your hair helps melt away tangles and knots that may have formed while you shampooed. Slip also gives a thin protective coating to your hair that makes the strands easier to separate as opposed to when they are dry.
7. Never Use a Towel to Dry Your Hair
I've always wondered, who thought of drying something so delicate as hair with a rugged towel because it's a silly idea. Even the softest Egyptian cotton towel in the world will shred through your hair and give you split ends when you vigorously rub it against your hair. Simply squeezing water out of your hair is a great way to remove excess water from your strands. Now it's okay to use something like a turbie twist
if you're just placing it on your hair to let it absorb water. Or better yet, use one of these to dry your hair. It also functions as a great way to set your curls.