Hello Lovelies!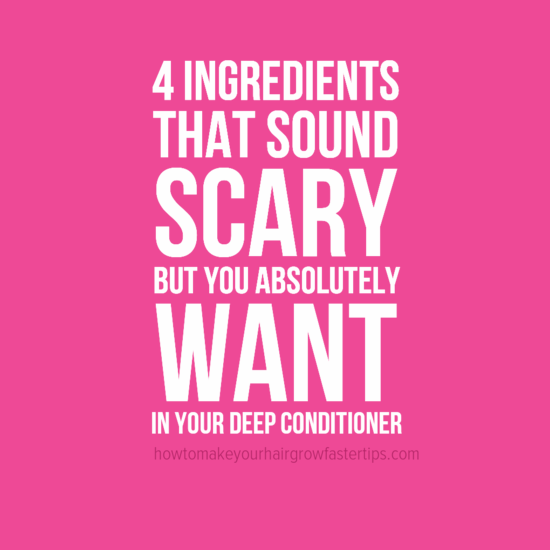 When it comes to deep conditioning your hair, the success of this hair care practice weighs heavily on the ingredients of the deep conditioner you use. As I've stated before, all deep conditioners aren't created the same, and therefore they aren't equal. So, if you use a deep conditioner with crappy ingredients, you betcha you'll end up with less than stellar results, which leads many people to believe that deep conditioning doesn't work or simply isn't for them. This couldn't be further from the truth! When searching for a deep conditioner, there are certain ingredients you should familiarize yourself with, so you know whether you're paying for a good product or wasting your hard earned dollars. Below you'll find four ingredients that I believe work well in deep conditioners and will provide noticeable results for your hair. Now I know that these ingredients may sound "scientificay" (is that even a word, lol?) and a bit scary, but trust me, they'll work wonders!
Panthenol
If panthenol makes you think of Pantene Pro-V, you're already ahead of the game! Pantene has built their entire line around this popular hair care ingredient and its properties. Panthenol is derived from vitamin B-5, and it is largely found in plants and foods like eggs, milk, vegetables, and cereals. In hair products, panthenol functions as a humectant and an emollient. If humectant makes you think of humidity, you're more of a hair scientist than you tought. Humectants are simply ingredients that draw in moisture to the skin and the hair to keep them moisturized. Emollients give some conditioners their creamy, slippery texture that can make detangling the hair easier and pain-free. Emollients also gives the hair added shine and increased volume. Panthenol is famous for making the hair appear thicker. As panthenol absorbs into the hair strand, its ingredients cause the hair shaft to swell due to increased moisture retention.
Since panthenol is naturally occurring, you don't have to worry about it doing any damage to your hair. If you could use glossier, moisturized, and more manageable hair, give hair products that contain panthenol a try.
Hydrolyzed Wheat Protein
The majority of our hair is made up of protein, so it only makes sense that our hair would need protein when its damaged and in need of repair. Hydrolyzed wheat protein is an ingredient you absolutely want in your deep conditioner because it can not only help repair your damaged hair from the inside out, it can also help your hair retain moisture and become more manageable. Hydrolyzed wheat protein is derived from whole wheat, and don't let the "hydrolyzed" part scare you, that simply means it was broken down into smaller parts that can actually penetrate the hair shaft.
You'll find hydrolyzed wheat protein not only in deep conditioners, but shampoos, hair dyes, and other hair products as well. Now while I recommend using a hair conditioner that contains this ingredient since you'll only be using it but so often, I wouldn't recommend using cleansers or daily styling products that contain hydrolyzed wheat protein, because too much protein can be a bad thing.
Cetearyl Alcohol
When most people think of alcohol in hair care products, the common advice is to avoid it, but that isn't always the best advice. All alcohols in hair care products aren't bad, in fact, some of them are actually good for your hair. The good hair care alcohols are known as "fatty alcohols" because they are derived from animal fats and oils, and they won't dry out your hair.  One of the best and most common fatty alcohols found in hair care products is cetearyl alcohol. Cetearyl alcohol is used in deep conditioners to give the product a thick and creamy consistency. Cetearyl alcohol doesn't have any direct affect on the hair's structure, but it does make detangling and deep conditioning the hair a much easier process.
Behentrimonium Methosulfate (BTMS)
Betrol-methol-what? That's what I first said when I discovered this ingredient. However, don't worry about the name, only concern yourself with the magic of this ingredient, and boy is it magical! BTMS is a cationic surfactant, which is simply a positively charged molecule that is attracted to and bonds with the negatively charged hair strand. Now there are all types of cationic surfactants that are found in deep conditioners and other hair care products, but BTMS is perhaps the most lubricating of them all. BTMS works well for all hair types, and it will make even the kinkiest, highly textured hair a breeze to detangle and deep condition. To add to it's magical properties, BTMS will not cause buildup on  the hair; in fact, surfactants like BTMS will actually remove product build-up and excess oil from the hair, much like a shampoo.
The next time you're out shopping for a new deep conditioner, keep these four glorious ingredients in mind. If you can't remember the name or the pronunciation of them (seriously, who would?), simply write them down and look out for deep conditioners that lists these ingredients towards the top of the product's listed ingredients.