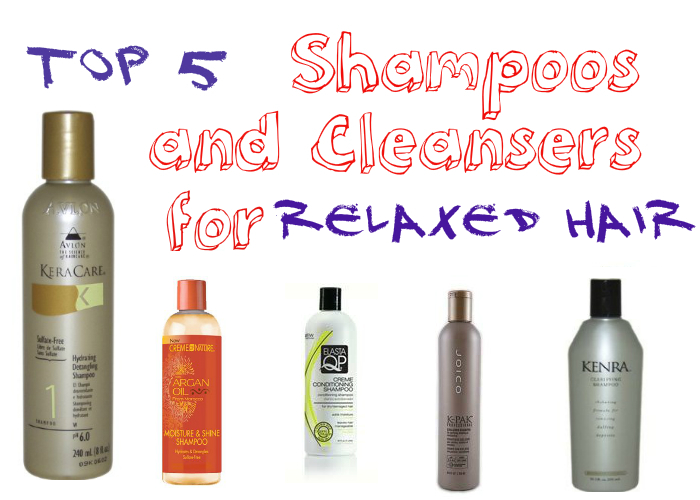 Hello Lovelies!
Relaxed haired ladies have long had their own corner of the hair care product market, and cleansers and shampoos are no exception. Since relaxed hair is practically it's own hair type, shampoos, cleansers, and other hair products that are specifically formulated for relaxed hair makes absolute sense, and are totally necessary. Relaxed ladies must be careful to choose a shampoo that isn't too harsh or drying for relaxed hair. Relaxers and hair straighteners exposes delicate curly and highly textured strands to enough harsh chemicals that makes relaxed hair prone to extreme dryness and breakage if not properly cared for, so it's important to select shampoos and cleansers that are extremely gentle and moisturizing to your chemically treated hair, yet strong enough to remove build-up from the scalp and hair.
Créme of Nature Moisture and Shine Shampoo with Argan Oil
If you're looking for a shampoo that will add bounce moisture to your hair while leaving your scalp squeaky clean, look no further than Créme of Nature's Moisture and Shine Shampoo with Argan Oil. This sulfate-free shampoo has amazing silkening and softening abilities; you'll easily be able to detangle your relaxed hair as you shampoo your tresses. Because it doesn't have sulfates (read harsh detergents), this cleanser won't lather as much as shampoos that do have sulfates and other sudsing ingredients. However, don't let that fool you, this cleanser will remove build-up and heavy oils and give you salon-quality results.
Kenra Clarifying Shampoo
Whether you have color treated relaxed hair or if you're a relaxed haired gal who likes to swim or workout frequently, Kenra's Clarifying Shampoo is just the shampoo you need to removal mineral build-up and sweat from your hair and scalp without taking excess moisture away from your hair or stripping your hair color. This shampoo uses grapefruit extract and witch hazel as it's two natural clarifying agents, and if you live in a hard water area,  this cleanser is strong enough to counter the effects of hard water build-up, which can wreak havoc on relaxed hair.
Avlon Keracare Hydrating Detangling Shampoo
If your relaxed hair is extremely dry, tangled, or just in need of a miracle cleanser, Avlon's Keracare Hydrating Detangling Shampoo is the miracle worker you need. This cleanser is so hydrating, some relaxed haired ladies have proclaimed that this cleanser is too moisturizing. Even when you rinse this cleanser away, you'll notice an immediate difference in the softness and shine of your relaxed tresses. The thing I like about this shampoo the most is that it is pH balanced within the happy hair pH balance range, which does wonders in terms of aligning the already delicate cuticle layer in relaxed hair.  This is one cleanser that will not only cleanse your relaxed hair but will truly transform your hair and boost it's health and condition.
ElastaQP Créme Conditioning Shampoo
ElastaQP's Créme Conditioning Shampoo is another great cleanser that is uber moisturizing for relaxed hair. The consistency of this shampoo is extremely thick and creamy, so a little goes a long way, and this shampoo smells like heaven! This cleanser is free of parabens, sulfates, and gluten, and it's extremely gentle yet effective at cleansing, and it's one of the few shampoos that relaxed haired gals can safely use more than once or twice a week. This shampoo is especially formulated for dry and damaged relaxed hair, and it'll surely leave your locks soft and silky.
Joico K-Pak Clarifying Chelating Shampoo
Joico K-Pak's Clarifying Shampoo is another great clarifier that will remove oil and product build-up from relaxed hair without disturbing the hair's moisture balance. This cleanser also has the ability to remove mineral build-up from hard water and other mineral deposits. This defining feature of this cleanser is it's special peptide complex that will give your relaxed tresses the protein protection it needs to strengthen your hair from the inside out.