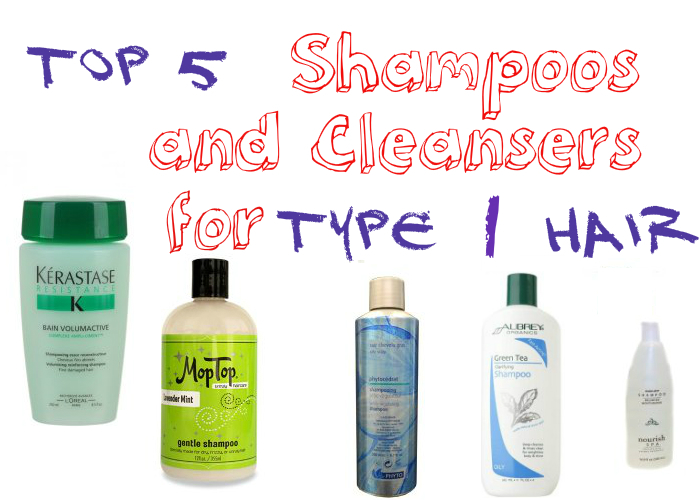 Hello Lovelies,
If you have straight, type 1 hair, finding a good shampoo or cleanser isn't too difficult of a task. Most hair care products are formulated with straighter hair textures in mind, so just about any type of shampoo or cleanser will work for your type 1 hair. However, if you want to gently cleanse your hair and clarify build-up and dirt from your scalp without drying out your hair, consider these top 5 shampoos and cleansers for type 1 hair that can remove excess oil from your hair and add body and strength to thinner hair.
1. MopTop Gentle Shampoo
Type 1 hair gals experience product build-up faster than any other hair type, so clarifying type 1 hair is required on a much more frequent basis than any other hair type. MopTop's Gentle Shampoo will remove excess oil from your hair without over drying it. This sulfate-free cleanser uses coconut oil as a natural cleansing agent to safely and gently remove build-up from the hair, and aloe and honey will replenish moisture to the hair without weighing it down.
2. Trader Joe's Nourish Spa Balancing Shampoo
Whether your type 1 hair is dry and brittle or oily and lifeless, Trader Joe's Nourish Spa Balancing Shampoo has the power to bring your hair back to life. This is one of those cleansers that will work on practically any hair type because there are so many good ingredients in this shampoo, there's at least one that will pay off for anyone's hair. Unlike most commercial shampoos that have a lather that leaves the hair feeling wiry, this shampoo has a thick, rich lather that feels so creamy and delicious on the hair, it's practically like washing your hair with a conditioner!
3. Kerastase Volumactive Shampoo
If your type 1 hair is fine and lifeless, Keratase's Volumactive Shampoo will add unimaginable body and volume to your hair. Now this product does contain sulfates and parabens, but when you see how luscious and plump this cleanser will make your hair look and feel, you'll be sure to make an exception. This cleanser works by coating the hair with a lightweight formula that strengthens fine and vulnerable strands. As Instyle Magazine's 2012  Best Buy in Shampoos/Conditioners for fine hair, this cleanser will give your fine tresses the va-va-voom, sex-kitten hair so many women desire, and as an added bonus, if your hair is blonde, you'll experience an incredible shine that is virtually unheard of for golden-haired gals.

4. Phyto Phytocedrat Shampoo
Phyto's Phytocedrat Shampoo is another great cleanser for type 1 gals with an oily scalp. What I love about this shampoo is it's plant-based formula, and it's use of herbal and other natural based astringents. This cleanser works double duty by removing excess oil and build-up from the hair and scalp, and it'll actually extend the amount of days you can go without washing your hair. I'm sure many of you oily haired gals know that going a day without washing your hair is an absolute no-no, but this cleanser will actually regulate your scalp's oil production and keep the "rebound effect" at bay, in turn allowing you to save time and money when it comes to cleansing your hair.
5. Aubrey Organics Green Tea Clarifying Shampoo
If you want a sulfate-free, paraben-free, all natural cleanser that will make your straight, type 1 hair healthy and as light as the breeze, reach for Aubrey Organics Green Tea Clarifying Shampoo. This cleanser has a nice and silky lather that gets your hair squeaky clean without zapping your hair's moisture. The shampoo will appear a bit watery when you pour it in your hand, but don't mistake its translucent appearance for ineffectiveness. This cleanser  is jam-packed with tons of great natural clarifying agents, so a little truly goes a long way. You'll also be able to shampoo your hair less frequently with this cleanser as it'll quickly get your scalp's oil production in check.