Hello Lovelies!

For those of you with relaxed hair, cleansing and washing your hair will involve a bit of a trial and error. Washing relaxed hair is rather tricky. Relaxed hair is often porous and extremely susceptible to outside aggravators, such as wind. Relaxed hair is most fragile when it is wet, so it is important to wash relaxed hair with the proper products and manual manipulation to improve your hair's health and length retention.
Use the Right Shampoo for Relaxed Hair
Because relaxed hair tends to be porous and susceptible to raised cuticles, it is important to use shampoos with the proper pH to cleanse your relaxed hair. Relaxed hair ladies should also avoid harsh shampoos that contain detergents, such as sodium laureth sulfate, which tend to be drying to relaxed hair. Mixing a bit of baking soda with your shampoo can make build-up and heavy oils easier to remove from your relaxed hair.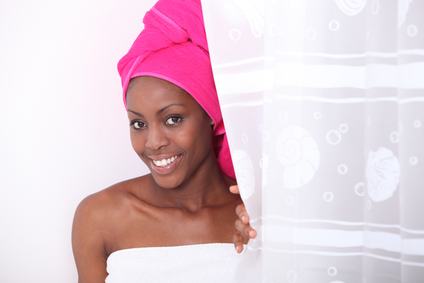 Wash Relaxed Hair in Sections
If you have a bit of length to your relaxed hair, consider washing it in sections. Similar to type 4 hair, relaxed hair can tangle and mat during washing sessions, even though the hair is chemically straightened. Braid the hair in two or more sections, and focus on cleansing the scalp only. Don't worry about shampooing the length of the braids, the run off from the shampoo will glide down your tresses and clean build-up. If your relaxed hair isn't long enough to wash in sections, just focus on cleansing your scalp with diluted shampoo to cut down on tangles and matting.
To Co-Wash Relaxed Hair or Not to Co-Wash Relaxed Hair
Co-washing is a great way to keep relaxed hair moist; co-washing is also a great way to keep your new-growth manageable in between relaxers. Co-washing isn't necessarily a bad thing, but since relaxed hair typically needs more protein than moisture, it's easy to over moisturize relaxed hair if you co-wash too often. If you decide to co-wash, it'll take a bit of trial and error to find the proper frequency. If your hair's protein/moisture balance is in check, it's okay to co-wash up to a few times a week. However, if your hair's protein/moisture balance is out of whack or completely nonexistent, it is best to skip co-washing until you get your protein/moisture balance under control.