Hello lovelies!

Similar to type 1 hair, if you have wavy hair, you don't have to wash it everyday. The natural oils that your scalp produces can travel quite a ways down the length of your, so wavy hair still tends to be quite moisturized on it's own. However,  type 2 hair is still susceptible to dryness, especially the ends of the hair. Additionally, unlike type 1 hair, type 2 wavy hair is prone to product buildup and frizz. So lovelies, certain products are an absolute no-no when it comes to cleansing wavy hair, especially if you plan to cleanse your hair more than once a week.
Detangle Your Hair
Always begin each cleansing session by detangling your hair. Hair that is prone to frizzing up is also prone to tangles. Washing your hair without detangling can lead to even more tangles and a complete mess when you wash your hair. Use a wide tooth comb to gently detangle your waves prior to washing, or simply detangle your hair with your hands before cleansing your waves.
Be Mindful of Your Shampoo and Keep Usage to a Minimum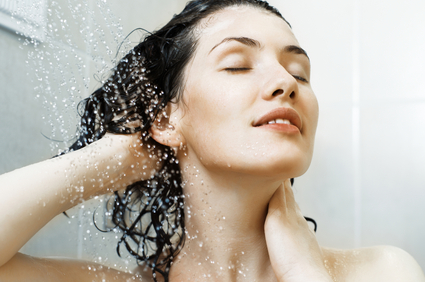 Like most people, wavy haired girls are accustomed to using shampoo to cleanse their hair and scalp. However, the harsh detergents that are in most shampoos can wreck havoc on wavy hair if used too often. Now because wavy hair girls tend to use heavier hair products than someone with type 1 hair, wavy hair ladies have to use shampoo at some time to prevent product buildup. However, you don't have to use shampoo as often as you think. It's okay to only shampoo your hair once or maybe twice a month to remove oils and products from your hair. A clarifying shampoo is the best type of shampoo to use for product buildup. However, I only recommend that you use a natural clarifying shampoo to preserve as much moisture in your hair as possible.
Co-Washing Wavy Hair
You wavy hair gals will benefit greatly from conditioner washes or co-washes. Co-washing simply means washing your hair with conditioner instead of shampoo. Co-washing type 2 wavy hair keeps the hair moisturized and prevents dryness that often begets frizz. How often you co-wash your hair depends on the products you use and your lifestyle. For instance, if you workout frequently, you may want to co-wash after each workout to remove sweat from your scalp and hair and to keep your waves refreshed. If you use styling products such as gel or products that contain alcohol (which I don't recommend for you wavy hair or curly hair ladies) you may need to co-wash a few times a week as well to keep your hair moist. As a bare minimum, I'd say co-washing two to three times a week is sufficient for most curly hair girls.
Hair Rinses
In between wash days, if you need to refresh your hair and scalp. You can simply rinse your hair with a stream of warm water under a strong shower head. Or you could try a DIY hair rinse to give your hair a quick boost if you're short on time.