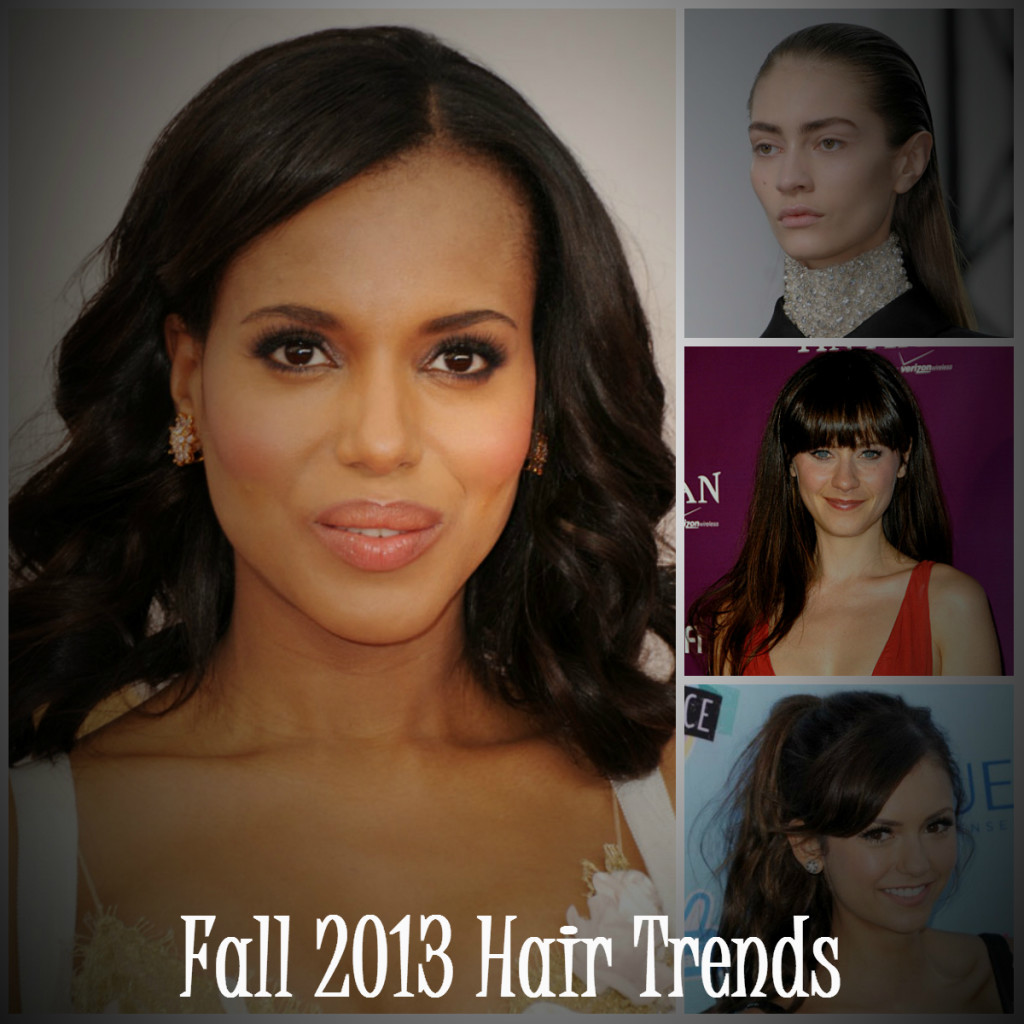 Hello Lovelies,
Seasonal changes always usher in new hairstyle trends, and I'm really excited about the trends we're seeing this fall. Now we all know that many of the trends we see on models during the  fall runway shows and on celebrities at award shows and events don't always translate into wearable everyday styles, but these four trends are easy to mimic and incorporate into your regular styling routine.
BLUNT BANGS
Darling bangs ala Zooey Deschanel and a full-on fringe like Taylor Swift and First Lady Michelle Obama are still all the rage this Fall. Apparently, sleek strands that frame your face are never going out of style.
To get the look:
For fuller, thicker bangs, ask your hairdresser to start chopping a bit farther back on the crown. This look is a bit heavier and a bit more dramatic.
For a lighter, wispier fringe, cut closer to the hairline. This style is more relaxed and easier to pull off. Leave the bangs at the edges of your face 1/4 to 1/2 inch shorter to soften up your look.
RETRO CURLS and FINGER WAVES
This sophisticated, Old Hollywood-inspired look has been a hit on the Fall runways of Marc Jacobs and Bottega Venneta, as well as on celebs at the Emmy Awards from the likes of Christina Hendricks to Kerry Washington. The style is all about being glamorous and feminine.
To get the look:
Apply a dab of volumizing mousse to damp hair from roots to tips.
Roughly blow out your hair in sections until it is bouncy and about 90% dry. Then, create a deep side part.
Twist small sections of your hair around a slim ceramic curling iron, stopping only a couple of inches from your hair part. Do this for about 15 seconds per section and pin your hair to let it cool for about 15 minutes.
Set the curls with a glossing cream then finish off with a mist of hairspray. Vamp up your look even more by putting on a siren-red shade of lipstick!
SLICKED BACK
Super slick and super straight is another trend we've been seeing on the fall runways of every brand from Gucci to Calvin Klein to Chanel. This simple yet sophisticated style looks clean and polished, whether you have a shoulder-length cut or a longer mane of hair and it looks even more amazing with dramatic, statement make-up on an evening out.
To get the look:
Use lots of shine serum applied from the roots of your hair all the way down to the tips.
Use a fine-toothed comb to pair your hair in the center and use a flat iron to straighten out your tresses until they're sleek and shiny.
To avoid the dreaded broom-hair effect, get regular trims to ward off split ends and use a deep conditioner at least once a week on processed hair or once every two weeks on unprocessed hair.
THE CLASSIC PONYTAIL
The runways at New York Fashion Week were full of models sporting low ponytails tied almost at the nape with parts of their hair being pulled down around their face or tucked behind their ears to emphasize the laid-back vibe.
Celebs like Nina Dobrev have also been seen sporting high ponytails with lots of texture. The best part is, this look is super easy to pull off!
To get the look:
Tie your hair into either a how or low ponytail. Curl small sections of your ponytail, but not all of it, with a thin curling iron. Finish off by spraying your locks with texturizer.
photo credit: Imaxtree